About us
Looking for a nice place to enjoy exquisite Indian meals in Kincumber? Then check out Rajdhani Indian Restaurant on Avoca Drive. The menu features Entrees such as Vegetable Samosa, Mixed Platter, Chicken Tikka and Tandoori Lamb Cutlets. You'll also find dishes like Chicken Moghlai and Biryani Ala Kashmiri. Main Courses Seafood, such as Prawn Masala and Prawn Ala Kashmiri are also served at this restaurant. Their Vegetarian Dishes include favourites like Shahi Korma and Zenobia. Rajdhani Indian Restaurant offers a wide variety of selections to customers for takeaway and delivery meals.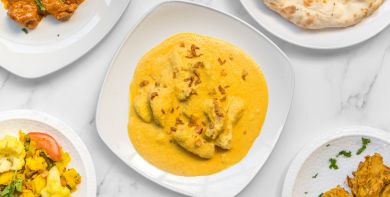 Reviews
Jared
"I've had a better butter chicken from the place before but it wasn't bad by any means."
16/02/2020
Sharon
"Was all great, thank you."
15/02/2020
Maureen
"I was disappointed that I didn't receive the 20% (lucky 20) discount offer which was mentioned in the Menu Log email. It was valid until Midnight of that dayl"
27/01/2020
Sallie-Ann
"The driver got lost - but our house is tricky to find! But she rang and got directions so all good!"
18/01/2020