About us
Looking for a nice place to enjoy exquisite Indian meals in Kincumber? Then check out Rajdhani Indian Restaurant on Avoca Drive. The menu features Entrees such as Vegetable Samosa, Mixed Platter, Chicken Tikka and Tandoori Lamb Cutlets. You'll also find dishes like Chicken Moghlai and Biryani Ala Kashmiri. Main Courses Seafood, such as Prawn Masala and Prawn Ala Kashmiri are also served at this restaurant. Their Vegetarian Dishes include favourites like Shahi Korma and Zenobia. Rajdhani Indian Restaurant offers a wide variety of selections to customers for takeaway and delivery meals.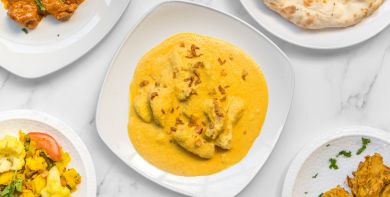 Reviews
Sharyn
"Excellent!! Thank you!"
2/12/2019
Russell
"Great food prompt service"
30/11/2019
Ryan
"Great food and service. One of our favourite restaurant's"
28/11/2019
Pippa
"Delicious food and good value"
10/11/2019